Owlbear Rodeo 2.0 Beta Patch 8
In this patch we have the launch of our documentation, a reworked permissions system and more.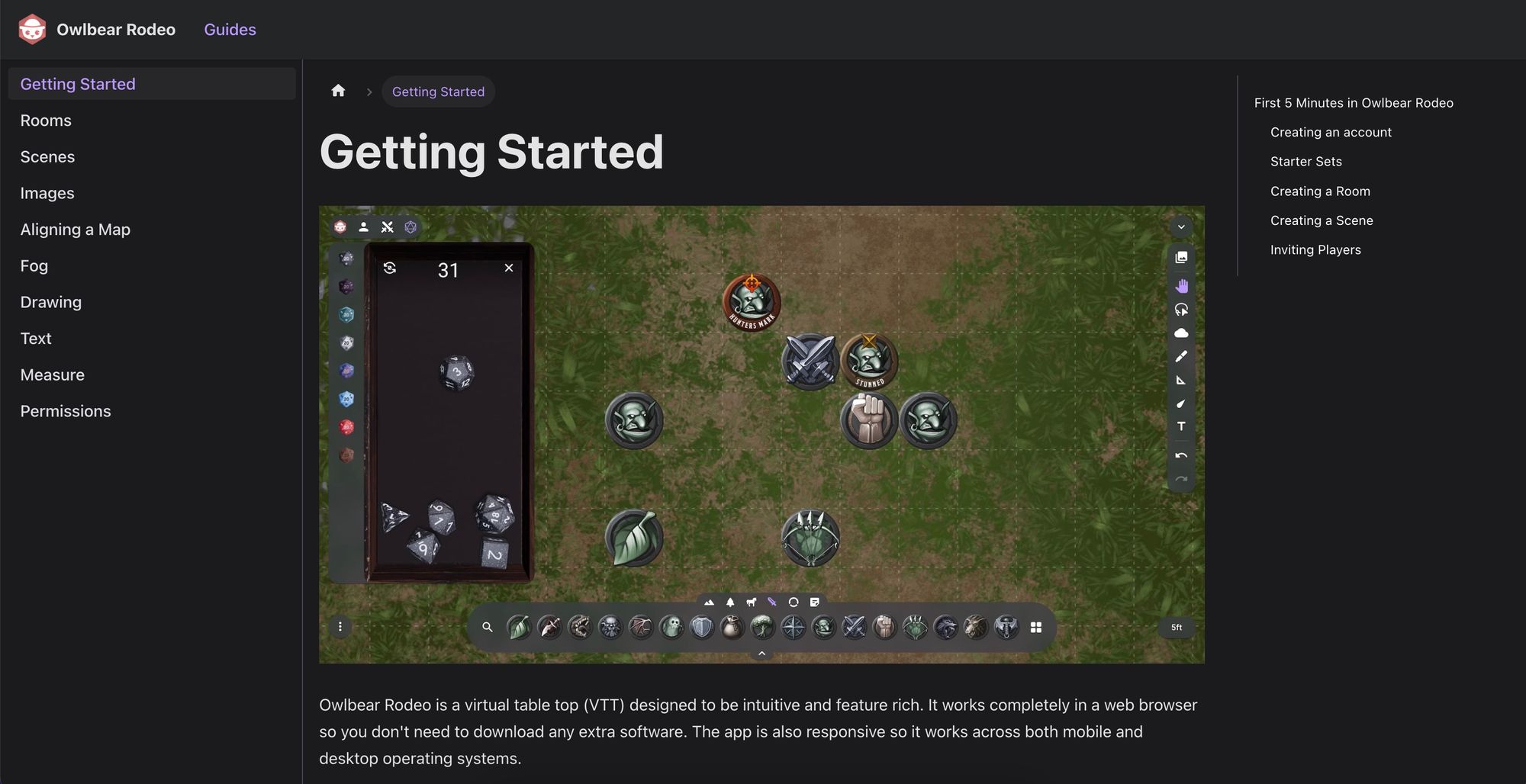 Documentation
As we get closer to release most of the big changes to the site have been completed. With this added stability we can finally launch our official documentation. You can access it here.
All the core concepts of Owlbear Rodeo should be covered but if you have any feedback on the content we'd love to hear it.
Permissions
We've reworked our permissions system to allow more flexibility. The new system allows for the same control as the previous system but allows us to add more permissions as we need them.
In patch 7 we gave players the ability to unlock items. This was in response to some GMs wanting to give their players full control of drawings. We've been keeping an eye on this change and have seen some issues with players accidentally selecting locked maps. To combat this each type of image now has a separate permission. This means you can remove permissions for maps but keep permissions for other images. Going forward the default permissions will allow all features except fog and maps for players.
Along with this we've added a new Owner Only permission to characters. With this permission players can only interact with the characters that they own. This can be helpful if you want full control over what images your players can interact with.
We have some more information in our new documentation here.
Enhanced Text System
We've added a new font selector to the text editor to allow you to match the text style to your scene. Also now any font size can be entered and the text item can be resized and rotated using the standard controls.
Better Hex Alignment
The image controls now allow you to align an image on a single axis. This fixes issues with aligning hex grids that don't match the Owlbear Rodeo hex shape.
More information can be found here.
Other Changes
Add a new grid highlight color to make it easier to align grids.
The scale option for grid alignment now responds linearly to input.
Add a stroke width option to fog for better hex crawls.
Split the marker/brush drawing tool into two to increase clarity.
Remove the underline text style as it wasn't supported.
Cursor now moves to the end of the text editor when it is opened.
Increase the height of rulers to make them more legible.
Add a zoom in/out shortcut with +/- keys.
Fix tab indexing on popups.
Add a new help dialog that links to the new documentation.
Fix an issue with the drag and drop overlay getting stuck while editing text.
Image labels now ignore the scale of the image they are attached to.
What's Next
With our main documentation launched we can now shift our focus back to releasing third-party support for extensions.